PURE SPAIN - SPANISH CUISINE & PRODUCTS NEWSLETTER
Spanish Food Online!
Pure Spain bring you authentic Spanish products from the many regions of Spain. Offering you a range of Spanish foods and popular goods that you won't be able to get as easily anywhere else in the UK. Sign up to their newsletter today to explore their range of gourmet food & wine, cookware and perfumery!
Discover everything from delicious Spanish charcuterie, famous Spanish wines and tantalising spices to paella ingredients, stunning olive wood and so much more.
Bring Spain to your home with ease when you sign up to their newsletter today! Explore kitchenware that'll help you create the best Spanish dishes, unique Spanish hampers and amazingly scented bathroom products.
Bring Spain home with you this year and shop with Pure Spain.
Sign up to the Pure Spain newsletter today to receive exclusive member only discounts and updates from the Spanish food experts!
SORRY, THIS NEWSLETTER IS NO LONGER AVAILABLE THROUGH THIS WEBSITE.
The Visual History of Pure Spain - Spanish Cuisine & Products Newsletter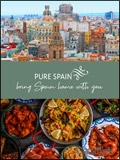 13 March, 2019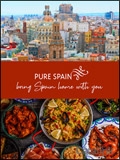 11 March, 2019