To sign up to the Snow Finders Newsletter, simply click the Request Newsletter button below and you will receive amazing special offers, discounts and access to secret sales.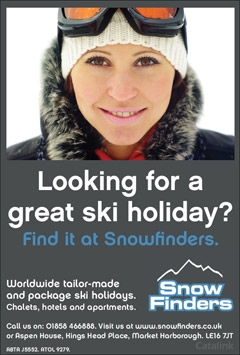 Worldwide Skiing Holidays!
Snowfinders specialise in both tailor-made, bespoke ski package holidays, as well as holidays to worldwide ski destinations and resorts. Whether you are looking for an all-inclusive ski holiday, ski package holidays, luxury ski holidays or last minute deals, Snowfinder can help you. Snowfinders knowledge of ski resorts and locations can help you find your perfect skiing holiday, whatever your budget and requirement.
Sign up to the Snowfinders newsletter today, and stay up to date on fantastic deals for skiing holidays throughout the year!
With Snowfinders, you'll find everything from all-inclusive ski holidays through to ski chalet holidays and ski packages. Snowfinders are the ski & snowboard holiday experts and have been organising bespoke, tailor-made ski trips for over 15 years. Their team is composed of avid skiiers and snowboarders, so they are sure to be able to find your perfect skiing holiday! From the booking process to the holiday itself, they'll be there to help you every step of the way.