TASTE DEVON
Welcome to the launch edition of Taste Devon.
With the success of their bi-monthly food and drink magazine Taste Buds, Taste Devon wanted to celebrate their local bounty further afield and put Devon on your map when you consider visiting the region!
With the finest seasonal produce and freshest seafood, as well as some of the most dedicated farmers and talented chefs in the country, Devon really is one of the best places to visit for an unbeatable culinary experience.
What you'll find in this issue?
Interviews with some of our most famous home-grown talent – chefs
Business people & producers who help shape and promote our industry
A sneak peak at the tastiest Devon-made products
The best restaurants with rooms in our Foodie Breaks feature.
This issue will give you an insight into what makes Devon's food among the best in the country, and will show you just how incredibly flavour-filled your visit can be!
Get in touch today and download your free copy of the Devon Taste magazine! We'd love to hear what you think about the guide and what you would like to see featured next time.
SORRY, THIS IS NO LONGER AVAILABLE THROUGH THIS WEBSITE.
The Visual History of Taste Devon

03 May, 2019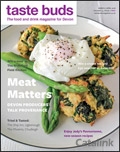 14 March, 2018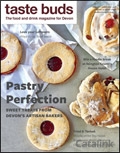 13 February, 2018