THE CAT GALLERY NEWSLETTER
Gifts for Cat Lovers!
The Cat Gallery is the go to place for any cat lover. Sign up to their newsletter today to explore their range of top quality cat collectables and gifts.
Their great range of cat gifts has everything any cat lover would need. From gifts for your loved cats and gifts for cat owners to home wares and so much more.
The experts at The Cat Gallery source the best quality cat products so that every cat enthusiast can find the item of their dreams.
Explore everything from cat flaps, scratch posts, cat bowls and beds to leather handbags, cat jewellery, cat tableware and so much more.
Enter code: 10CATS at the checkout to claim 10% off your first order!
With a great range of brands, you're sure to find the gift perfect for your loved one - choose from Simon's Cat, Alex Clark, Rosina Wachtmiester, Trixie and more!
Find the perfect cat gift today! Sign up to The Cat Gallery newsletter for updates and offers on the best cat products around.
SORRY, THIS NEWSLETTER IS NO LONGER AVAILABLE THROUGH THIS WEBSITE.
The Visual History of The Cat Gallery Newsletter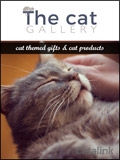 20 February, 2018