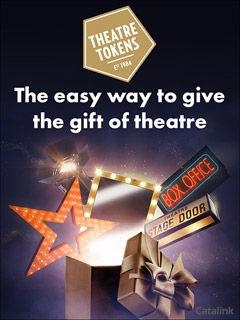 Tweet
Follow THE GIFT OF THEATRE WITH THEATRE TOKENS on Twitter
theatretokens
- 4 days ago
Did you see our pick of shows coming to you around the country in the next few weeks?👇 We're back with some more... https://t.co/xbs95iawWl
theatretokens
- 1 week ago
Did you get Theatre Tokens this Christmas and want some inspiration on where to redeem them? THREAD🧵
theatretokens
- 3 weeks ago
RT
@london
_theatre: Tag the show in your responses so they know they're loved ❤️ https://t.co/dUTwmQ56A3
THE GIFT OF THEATRE WITH THEATRE TOKENS NEWSLETTER
To sign up to The Gift of Theatre with Theatre Tokens Newsletter, simply click the Request Newsletter button below and you will receive amazing special offers, discounts and access to secret sales.
Request Newsletter
This newsletter is temporarily unavailable
Theatre Tokens are Gift Cards or eGifts that can be used to see a show at more than 260 theatres nationwide. Available to buy online at TheatreTokens.com or in person at any participating theatre and most Tesco stores.
Sign up to receive 'Token Talk' emails for competitions, offers and details of what's on at your local theatre, wherever you are in the UK.
Theatre Tokens have no expiry date - so you can rest assured that when you're buying them as a gift you're not putting any pressure on the person to use them straight away!
For the perfect birthday present, Christmas present o simply as a spontaneous treat, Theatre Tokens have you covered.
Sign up to Theatre Tokens - Token Talk emails today!