THE WHICH? GUIDE TO USING WINDOWS 10 CATALOGUE
Windows 10 Explained
As a consumer champion, their campaigns work to make your lives fairer, their advice helps you make informed decisions and their services and products put your needs first to bring you better value.
Straightforward, step-by-step guidance on whether to upgrade to Windows® 10 and how to go about doing it. This guide also explores the new features that this operating system has and how to customise it.
To get your copy call 0800 533 090 and quote WIN216F
Opening times of call centres are 8.00 – 20.00 Monday to Friday and 9.00 – 13.00 on Saturday
SORRY, THIS CATALOGUE IS NO LONGER AVAILABLE THROUGH THIS WEBSITE.
The Visual History of The Which? guide to using Windows 10 Catalogue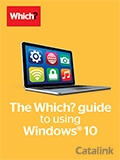 28 February, 2017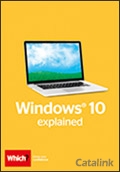 15 February, 2016