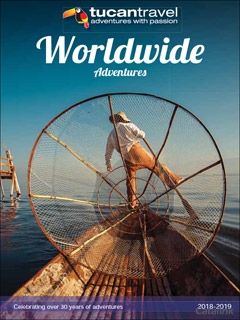 TUCAN TRAVEL WORLDWIDE NEWSLETTER
www.tucantravel.com
To sign up to the Tucan Travel Worldwide Newsletter, simply click the Request Newsletter button below and you will receive amazing special offers, discounts and access to secret sales.
Request Newsletter
Adventures With Passion
Passionate about adventure travel since 1987, Tucan Travel offers a wide selection of exciting and affordable escorted group tours to destinations worldwide. Pick from a variety of Tucan Travel's small group tours or create your own tailor-made trip. Whether you're a solo traveller or travelling with friends and family there's an adventure waiting for you!
Which corner of the world do you want to travel to?
Europe
Asia
Africa
Latin America
Antarctica
North America
North Africa & The Middle East
Tucan Travel's pricing is highly competitive; you can book a tour without breaking the bank! Tucan Travel offer excellent value, along with last minute deals and occasional special offers. It's worth making sure you are the first to hear about these great savings.
With short breaks and all-encompassing adventures, there's a tour to suit people of all ages, cultures and fitness levels. Take the adventure of a lifetime with Tucan Travel today.
Sign up for the Tucan Travel Worldwide Newsletter today for the latest news on trips and holiday discounts.