VIRGIN WINES NEWSLETTER
Sign up now for our e–Newsletter and updates, containing exciting offers and news, over the coming months.
As a welcome to Virgin Wines, there are 6 fabulous bottles of wine for you to try: You pay for the first 6 bottles in the case, and Virgin Wines add the other 6 for free! Remember that if you are not completely satisfied for any reason, they will refund your money. There is a choice of fantastic welcome cases available, all at just £53.94 each! Have you seen our great value Customer Promise? 1. Quality – If you buy any of our wines and you don't like a bottle, we will credit your account for the full amount for that bottle. If you have bought a whole case of one particular wine, then we will refund the whole case, including delivery, as soon as we have collected the rest of the wine from you, provided of course that you have only drunk one bottle from the case. 2. Price guarantee – We guarantee great value. That means that if you buy wine from us and then find the same wine for sale in the UK at a cheaper price within 14 days (but not on promotion, special offer or in a sale) we will refund the difference. 3. Delivery – Delivery is £5.99 per delivery regardless of how many cases you order. So pack 'em in quick. We will deliver your wine to anywhere in the United Kingdom (including Northern Ireland, the Highlands, Scottish islands, the Isle of Man and the Scilly Isles.). We normally deliver Monday to Friday, 9.00am to 5.00pm. Most of our customers give us instructions to leave the wine in a safe place as this is by far the easiest way to ensure you get your wine on time. If it gets nicked, we will replace it free of charge. If you prefer to have the wine delivered to you in person, we will of course do so. If you are not there the driver will leave a card for you to arrange a more convenient delivery time.
SORRY, THIS NEWSLETTER IS NO LONGER AVAILABLE THROUGH THIS WEBSITE.
The Visual History of Virgin Wines Newsletter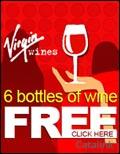 17 April, 2007