VISIT COVENTRY AND WARWICKSHIRE NEWSLETTER
Where city life meets country life
Welcome to Coventry and Warwickshire, home to a unique selection of internationally renowned attractions, popular cafes, bars and quirky restaurants, guaranteed to delight and captivate in equal measure.
Within an hour of London, Coventry and Warwickshire is a region rich in culture and heritage, steeped in history, conveniently located at the very heart of England. From Cathedrals and Castles to Shakespeare and Godiva, we have legends and stories that are unrivalled and unmatched.
Stay posted for a quality visit all year round with the Coventry & Warwickshire newsletter - packed with news, offers and savings on local attractions and events!
Or plan your visit and view the visitor guide online now.
SORRY, THIS NEWSLETTER IS NO LONGER AVAILABLE THROUGH THIS WEBSITE.
The Visual History of Visit Coventry and Warwickshire Newsletter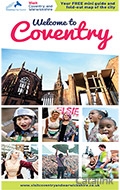 06 February, 2017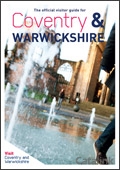 23 February, 2016

08 August, 2013