VISIT DERBY NEWSLETTER
Discover the heart of the UK

Derby has it all. Situated in the heart of the UK and surrounded by a magical landscape, you can craft whatever holiday you want. From award–winning ales, glorious heritage and thriving attractions, Derby guarantees to make your next break special.
Get away – ample opportunity to lose yourself in a luscious landscape on foot, by bike or by car
Enjoy the history – celebrate British heritage in the historic Cathedral Quarter
Indulge yourself – Westfield shopping, gourmet food, bars and clubs; let yourself go
Make it magical – special places to stay, see and enjoy – whatever the occasion
Bring the family – events and attractions to keep everyone entertained
Let Derby inspire you to expect more when you go away

The sheer range of what's on offer will suit the needs of any trip, whether it's a day trip, a weekend getaway or a long holiday with the kids.

If you want to experience the great outdoors, a wealth of parks, gardens and estates are at your disposal. Why not enjoy a romantic afternoon in Derby Arboretum – the first public park in Britain – and wander through its secluded and idyllic paths?

Your perfect city break

Stay in the city and you'll never be spoilt for time. Museums, galleries and boutique shops litter the streets, letting you discover something new or indulge in something great. And rest assured – a good restaurant or pub is never far away for that perfect evening treat.

Packed with venues, theatres and clubs, constant events and a lively nightlife, Derby will ensure you never have to spend a quiet night in. Discover a bustling programme at the Derby Assembly Rooms to find that perfect gig.

So travel somewhere different this time.

With so much to see and do, order your Discover Derby brochure now to make sure you don't miss out on what's on offer.


SORRY, THIS NEWSLETTER IS NO LONGER AVAILABLE THROUGH THIS WEBSITE.
The Visual History of Visit Derby Newsletter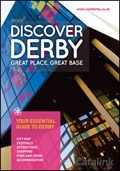 04 December, 2013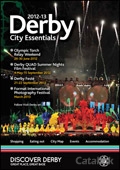 30 November, 2012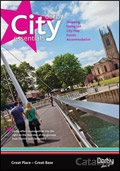 19 August, 2011