WENTWORTH WOODEN JIGSAW COMPANY NEWSLETTER
Themed, personalised and unforgettable wooden puzzles for all ages


Giving you hours of fun and a lifetime of satisfaction, Wentworth Wooden Puzzles invite you to piece together their unique jigsaws.

The celebrated variety of their puzzles has been delighting customers for decades – no matter how many jigsaws you get through, the experience will always be different.

Have a look at a sneak peak at a range that barely scratches the surface of their collection:
Personalised puzzles – create a unique jigsaw from a special photo
Animal, nature, art, building and contemporary puzzles
Children's jigsaws – inspire and nurture their creativity
Specially shaped puzzles – think you're a pro? Boggle your brain with head–scratching puzzles
Unique manufacture, an inspiring range
The quality and finish of each individual jigsaw piece is second to none – ensuring you never have to battle to get a piece into place. Their design methods include the manufacture of delightful whimsy pieces – shapes cut into the puzzle often reflecting the image themes, such as flowers or animals, to add an extra level of individuality to each puzzle!

Enter a world of delightful gifts, personalised fun and exquisite jigsaws – and get it all for less.

Keep up to speed with seasonal ranges and get the latest deals with the Wentworth Wooden Puzzles eNewsletter. Sign up now.



SORRY, THIS NEWSLETTER IS NO LONGER AVAILABLE THROUGH THIS WEBSITE.
The Visual History of Wentworth Wooden Jigsaw Company Newsletter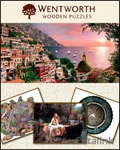 06 August, 2014

06 August, 2014