WHICH? SMARTPHONES MADE EASY CATALOGUE
Smartphones Made Easy - A Guide Just For You!
Smartphones do more than merely keep you in touch. They are akin to carrying around a powerful computer in your pocket. Most of today's modern smartphones include GPS features similar to a satnav, helping you find your location or get directions, plus high definition screens and HD video cameras.

This guide will help you to set your phone, download essential apps, discover how to store your images safely, make video calls and sync your data with any other devices you own!

Call free to receive your guide on 0800533090

Opening times of call centres are 8.00 – 20.00 Monday to Friday and 9.00 – 13.00 on Saturday
SORRY, THIS CATALOGUE IS NO LONGER AVAILABLE THROUGH THIS WEBSITE.
The Visual History of Which? Smartphones Made Easy Catalogue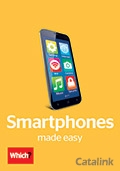 22 February, 2017