YUMMY MUMMY MATERNITY NEWSLETTER
Affordable, Beautiful Maternity and Nursing Wear
Yummy Mummy Maternity specialise in making both affordable and beautiful maternity and nursing clothing, so you can feel comfortable whilst looking great. Sign up to the newsletter today to discover their incredible range.
From maternity jeans, nursing dresses and maternity gym wear to swimwear, changing bags and feeding tops. You can find something for every need without breaking the bank at Yummy Mummy Maternity.
Treat yourself during your pregnancy and look great in every trimester. Wear gorgeous floral prints that accentuate your beautiful shape throughout your whole pregnancy.
Dress for every occasion with Yummy Mummy Maternity. They have your every need covered and are dedicated to making sure you receive the best possible experience when you shop with them.
Their high quality, lovely range of maternity clothing is timeless and long lasting, ensuring that you can wear them throughout all of your pregnancies.
Sign up to the Yummy Mummy Maternity newsletter today for savings on beautiful maternity wear and great deals and updates from the experts.
SORRY, THIS NEWSLETTER IS NO LONGER AVAILABLE THROUGH THIS WEBSITE.
The Visual History of Yummy Mummy Maternity Newsletter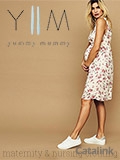 24 February, 2017