ACROSS THE DIVIDE BROCHURE
Charity Challenges with Across the Divide Expeditions – adventurous and safe treks, projects, bike rides, dog sledding expeditions.

Have you ever wanted to trek the Great Wall of China, trek to Everest Base Camp, mush your own dogsled team in the Arctic or climb Kilimanjaro whilst raising money for a good cause or a charity of your own choice? Well by joining one of our charity expeditions or selecting from a wide of range of 'open challenges' you can do just that.

We have something to suit everybody with overseas challenges ranging from 7 to 22 days and sponsored walks in the UK over a weekend. All of our charity events are graded in terms of difficulty, so you can pick the one that best suits you. All you have to do is pay a registration fee, plus insurance and sponsorship for the trip of a lifetime.

If you are a company we have an ever–expanding range of charity projects, team challenges and CSR projects to select from or we can tailor an event to meet your specific objectives.

Across the Divide's charity challenges are almost unique in that all of its fundraising events are organised as mini–expeditions, with all the safety and personnel back–up that this entails. The experience of the Across the Divide teams stretches across over 300 charity challenges, in over 35 different countries with £24 million raised for charity. It is this commitment and experience that helps to ensure that all of our challenge participants get the most of their fundraising.
SORRY, THIS BROCHURE IS NO LONGER AVAILABLE THROUGH THIS WEBSITE.
The Visual History of Across the Divide Brochure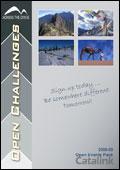 04 March, 2008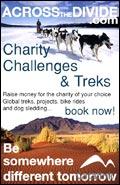 11 July, 2006