To sign up to the Hot Diamonds Offers Newsletter, simply click the Request Newsletter button below and you will receive amazing special offers, discounts and access to secret sales.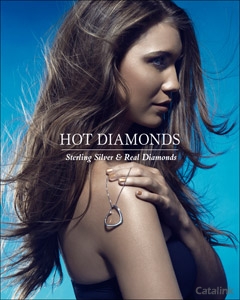 Stunning jewellery for every occasion
From classic sterling silver finishes, through charm pendants to delicate 18ct rose gold accents from Shades of Spring; Hot Diamonds necklaces and pendants are perfect for all occasions and are always adorned with a signature real diamond.
Hot Diamonds have a collection of bracelets and bangles expertly crafted in sterling silver and always adorned with real diamonds. Timeless yet contemporary bracelets and bangles are joined by classic charm carriers, precious gemstones highlights and statement cuffs, laden with 8 diamonds!
Hot Diamonds rings are expertly crafted in sterling silver and always feature the generous addition of a real diamond. Choose classic sterling silver with white pearls, cocktail rings featuring black onyx or mother of pearl or perhaps delicate 18ct Rose Gold – a collection of rings designed to thrill!
With seasonal savings and offers, now's the time to sign up to the newsletter.