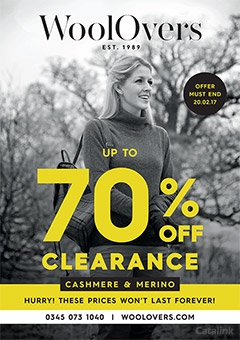 Welcome to Wool Overs your one stop shop for fine natural knitwear- now selling over 160 styles in a wide ranging variety of colours. All garments are knitted from virgin wool in cashmere/merino wool, Pure Wool and a number of Cotton blended yarns which gives the cotton a warmer, softer feel.
Described as 'Britain's best kept retail secret' Wool Overs are a specialist for jumpers, cardigans, sleeveless tops and accessories for all discerning customer tastes. Today there is an ever greater need to use natural renewable resources, wool fulfils this requirement whist keeping you warm and stylish with a wide range of durable products.
All styles offer unbeatable value for money without compromising on the quality in anyway. They are easy to maintain as all garments are machine washable. Wool All products are backed by a non quibble guarantee. Take some time to view our reviews and order our latest brochure and join the huge numbers of Wool Overs fans who have found this retail gem.
View or order the Wool Overs catalogue now for the best way to shop stylish, snug, top-value knitwear.