To sign up to the Burton Menswear Newsletter, simply click the Request Newsletter button below and you will receive amazing special offers, discounts and access to secret sales.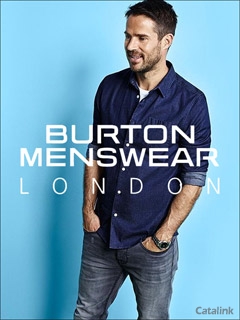 Outfitters of the Modern British Man...



Burton want fashion to be easy, comfortable and stylish. With roots in British tailoring, they understand the importance of a good suit but also offer a range of key wardrobe staples such as a classic pair of jeans, Harrington jackets, Oxford shirts and crew neck jumpers.

Whether you want to perfect the art of relaxed formal or stock up on quality essentials, you'll find everything you need at Burton.

Sign up to Burton's newsletter to keep up to date with the latest menswear trends, deals and offers. You'll receive regular features and advice so you can always look your best, whatever your style.