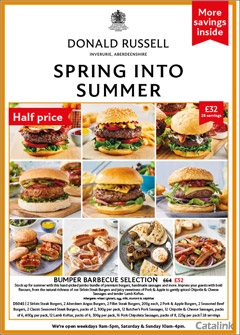 DONALD RUSSELL - AWARD-WINNING FINE FOOD SPECIALIST CATALOGUE
www.donaldrussell.com
To order the Donald Russell - Award-winning fine food specialist Catalogue, simply click the Request button below.
Request Catalogue
Donald Russell supplies some of the world's finest Michelin-starred restaurants and luxury hotels. Their passion for great tasting food has earned them the status of Royal Warrant holder and over 350,000 five-star customer reviews.
They have long been renowned for their premium quality fine foods including grass-fed, British beef and lamb, game, fish, seafood and poultry.
Besides this, their in-house Chef prepare a wide range of exceptional slow cooked meats, ready meals, side dishes and even artisan desserts, so you can enjoy convenience without ever compromising on quality.
Donald Russell have won a whole host of awards and are a recognised Great Taste supplier for their dedication to quality and customer service.
Donald Russell's catalogue showcases their seasonal specialities (the full range can be found online) which includes:
Grass-fed British beef and lamb
Juicy, free-range pork and poultry
Award-winning sausages and burgers
Gourmet sides and prepared meals
Artisan desserts