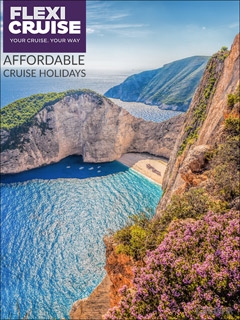 FLEXI CRUISE NEWSLETTER
www.flexicruise.com
To sign up to the Flexi Cruise Newsletter, simply click the Request Newsletter button below and you will receive amazing special offers, discounts and access to secret sales.
Request Newsletter
Your Cruise, Your Way!
Flexi Cruise are here to help you design your dream cruise holiday. Sign up to their newsletter today to see how they do things differently!
With an extensive choice of flights, cruise lines and accommodation options, you're sure to find something that floats your boat with them.
Choose from destinations you have only ever dreamed about - travel to Alaska, the Far East, Australia or South America when you sail with Flexi Cruise.
If it's a stateroom with a balcony overlooking the sea or those extra little touches that mean oh so much, the experts at Flexi Cruise can help make your time away, unforgettable.
Find your superb cruise deal today with them and sail away on the holiday of a lifetime - you won't regret it!
Sign up to receive the Flexi Cruise newsletters & brochures today to take the first step in planning your dream holiday at sea or enjoy any of the other holidays on offer from Flexi!