KINGS SEEDS CATALOGUE
Fine quality seeds at great value!
Kings Seeds have been selecting and maintaining seed stock longer than most seed providers. Supplying seeds to commercial growers of flowers and vegetables, wholesale to large users of seed and to the home gardener. You'll be sure to find something perfect for your needs with them. Order their catalogue to explore their range today!
With an on-site laboratory and a Qualified Seed Technician testing all seeds for vigour, purity and germination, their seeds truly are the best around.
Starting at 95p per pack and offering special schemes for gardening groups for orders over £75, everything Kings Seeds offer is of the best quality. So they don't need to offer gimmicks and free gifts, they believe their products will speak for themselves.
As the lead supplier of vegetables, flowers, herbs and sweet pea seed since 1888, there is so much to find when you shop with Kings Seeds. Explore their huge range of flower seeds - from snowdrops, iris bulbs and tulips to cornflower, chrysanthemum and more.
Keep those green fingers busy all day long with Kings Seeds. Shop fruit trees and herbs and stock your pantry with a fresh supply of vital ingredients this year. From garlic, dill and basil to lemon grass, cumin and rocket.
If you have a passion for gardening, their catalogue is all you'll need to make your garden the envy of all your friends.
Taste fresh vegetables like never before when you create your own beautiful vegetable patch. Explore their incredible option of vegetable and organic vegetable seeds today!
Order your free copy of the Kings Seeds catalogue to discover incredible vegetable, flowers and herb seeds today!
SORRY, THIS CATALOGUE IS NO LONGER AVAILABLE THROUGH THIS WEBSITE.
The Visual History of Kings Seeds Catalogue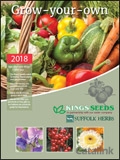 16 August, 2017