LANDS END CLOTHING CATALOGUE
Fashion that fits the whole family!
The team at Lands' End are committed to making stylish, hardworking fashion for the whole family, and they've been doing just that for over 50 years. Order a free copy of their catalogue to explore their range today!
They design beautifully-crafted clothing, iconic, updated classics and chic, modern styles. Including practical outdoor clothing, comfortable casual clothing and up-to-the-minute styles - the perfect selection of fashion online for women, men and kids.
Their high quality, fashionable clothing is designed for all the family. Their menswear range has you covered, whether you're going sailing, suiting-up, working out or winding down. Their comprehensive range of casual and tailored styles include Lands' End men's coats and men's jackets to create the perfect wardrobe for today's lifestyle.
Their womenswear ranges include beautifully made classics, key wardrobe staples, iconic styles plus the latest trends. With chic accents and stylish cuts, their range encapsulates the latest women's fashion with timeless pieces in a wide range of fits to flatter every body shape. Complete your outfit with our beautiful Lands' End ladies boots and shoes, scarves and jewellery.
Their children's clothing is designed with real kids in mind. They know they'll put their clothes through the toughest tests so they ensure that durability is at the heart of every piece in their kids clothing range. From waterproofs to snow boots, dresses to denim, graphic tees to trousers - all really well-made in bright, fun colours and fabrics.
Whatever your style, at Lands' End they make online shopping easy - order a free copy of their catalogue today!
SORRY, THIS CATALOGUE IS NO LONGER AVAILABLE
Front Cover Images of Lands End Clothing Catalogue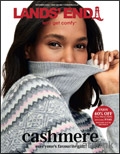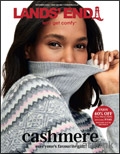 VIEW ARCHIVED CATALOGUES