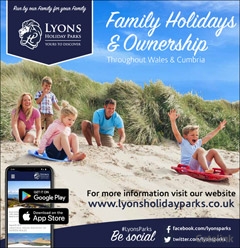 LYONS HOLIDAY PARKS BROCHURE
To order the Lyons Holiday Parks Brochure, simply click the Request button below.
Request Brochure
All-in-one fun for the family
Forget what you knew about family breaks. Lyons Holiday Parks bring you new and exciting ways to spend quality together – as well as keeping the kids AND the parents happy.
Enjoy the freedom and opportunity to experience the exact holiday you and your family need.
With 8 themed holiday parks across the spectacular coast of North Wales, Lyons boast a location to suit all your needs. And with a range of accommodations, activities and optional extras, you can tailor everything to your taste.
Parks with personality – individually themed parks vary from quiet, relaxing environments to fun–packed, activity–filled parks
A location for your tastes – beach, woodland or both? Surround yourself with the environment of your choice
Hand–pick your holiday home – accommodation to suit every budget. From prestige motorhomes to luxury chalets
Never a dull moment – quality entertainment and facilities for all – so you can choose exactly how you spend your day and night
Convenience guaranteed – local amenities, bars and restaurants let you self–cater in style or indulge in a night out
Confidence and trust – attention to detail and professionalism let you relax and enjoy the best bits of your holiday
Contemporary, deluxe facilities, including spas and pools, arcades, clubs and bars, let you relax however you choose and nearby attractions and tours get you out and about to explore.

With thousands of visitors returning each year, you can even choose to purchase a holiday home in an exclusive 'owners only' park.

Find out why Lyons Holiday Parks are one of the best at what they do. Order your brochure now to find your ideal family holiday.