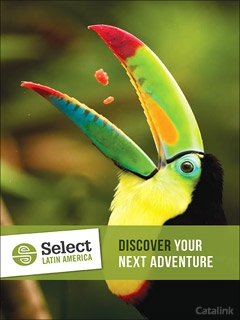 This newsletter is temporarily unavailable




There are few locations on Earth that offer the same excitement and variety as Latin America. With breathtaking landscapes of thriving rainforests and striking deserts, rich heritage and spectacular culture, as well as a wide array of vibrant wildlife, Latin America is sure to captivate any visitor regardless of their tastes.

To fully experience the wonder, intrigue and natural splendour of so varied and expansive a location, Select Latin America offer a tantalising selection of meticulously planned itineraries to ensure that, whatever you do and wherever you choose, you always make the most of your time away.

Their enewsletter covers enticing destinations which stretch across the wide expanse of Latin America and include countries from Belize, Brazil and Guatemala to Panama, Peru and the Galapagos. If you're a nature enthusiast, why not explore the spectacular Caribbean Coast of Costa Rica and see the beautiful habitats of the local Green Turtles? Or perhaps visit some of Bolivia's enigmatic rural culture and experience the astounding views from its high plateaus.

Their destination experts have directly experienced each location and continue to build on an already extensive database of carefully researched locations. Their local guides will guarantee that you experience a genuine sense of adventure and authenticity, often travelling away from the beaten track to discover the hidden gems and exhilarating secrets of each destination.

To discover the wonders of Latin America's many thrills and unique culture, sign up to the Select Latin America newsletter today and take the tour of a lifetime.