To sign up to the Ultimate Performance Sports Medicine Newsletter, simply click the Request Newsletter button below and you will receive amazing special offers, discounts and access to secret sales.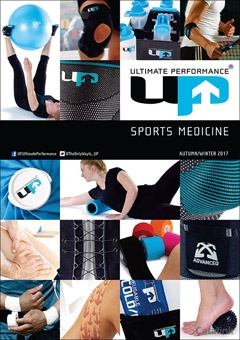 Sports medicine for every athlete!
Ultimate Performance Sports Medicine bring you the all the best in sports medicine so that you can be the best without having to worry about anything. Download their digital catalogue today and sign up to their newsletter to stay up to date with top products and events!
Every athlete from an elite to a beginner dreams of the moment where everything comes together... UP Sports Medicine bring you all the gear to do just that. Find support for walkers, runners, cyclists and much more - whatever your passion, they have you covered.
From tennis elbow supports, EAB tape, ice bags and reusable hot/cold packs to sports tape, tendon supports, compression supports and kinesiology tape, there is something for every injury.
Find products perfect for pre-existing conditions, temporary issues and supports for preventative measures - whatever you need, you can find it in the UP Sports Medicine catalogue.
Sign up to the Ultimate Performance Sports Medicine newsletter or download the catalogue to explore their incredible range of sports medicine and receive member only updates and deals direct to your inbox!