1 LIKE NO OTHER FASHION NEWSLETTER
1-Like No Other

Life is for making your own, for innovation over imitation. At 1- Like No Other, individuality and flair are what drive our designers to stand out from the crowd. The results are visionary designs that combine classic styling with rich, flamboyant detail.

Every '1' shirt in the luxury collection is a genuine one-off. Our commitment to quality limits production of each design to a mere 500 garments, assuring you of their exclusivity. The unique number carefully hand printed inside each one brings a whole new meaning to limited edition.

The sense of character extends to the spectacular seasonal prints that make up the trim of each shirt. Appearing on impulse under the collar, inside the cuffs or in the back yoke, they add distinction to every item in the range.

As our name suggests, we promise you shirts that truly have no equal. To preserve the exclusive appeal we're careful who we work with, which is why you'll only track us down in the very best menswear retailers.

Quote code 'onelike7' (without quotes) for a 10% discount!
SORRY, THIS NEWSLETTER IS NO LONGER AVAILABLE
Front Cover Images of 1 Like No Other Fashion Newsletter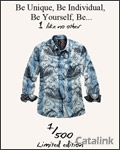 VIEW ARCHIVED NEWSLETTERS