1 STOP HOLIDAYS FOR THE DISABLED NEWSLETTER
Welcome to 1 Stop Holidays
1 Stop Holidays specialise in Accessible Tourism and Senior Citizens holiday packages. If you have a disability, need to use a wheelchair or if you are a elderly individual 1 Stop Holidays can give you the opportunity to book an accessible holiday with all the extras you may need to assist you.
They offer a very caring, professional and efficient service. These high-quality and cost effective holidays allow them to fully focus on providing holidays that allow maximum choice, fused with loads of fun, high staffing ratios, commitment to individual needs in a supportive holiday environment.
For to the best disability-friendly holidays deals
Great holiday deals
Tailor-made care & disability-friendly facilities
The extra mile to ensure comfort & safety
Beach breaks, city breaks, coach tours & more
Sign up to the 1 Stop Holidays newsletter today for the latest in holiday offers, tips and savings on holidays for the disabled.
SORRY, THIS NEWSLETTER IS NO LONGER AVAILABLE
Front Cover Images of 1 Stop Holidays for the Disabled Newsletter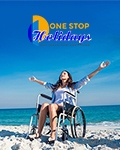 VIEW ARCHIVED NEWSLETTERS