1 STOP HOLIDAYS FOR THE ELDERLY NEWSLETTER
The Best Holiday Packages for Elderly People
Arranging holidays can be a more difficult process at any age, but for elder travellers 1 Stop Holidays take extra care to make a note of all possible requirements, and liaise with the holiday destination and holiday accommodations, who specialise in offering you an extra service to suit your requirements, and they do their best to ensure you have the best levels of care.
Perhaps you would require a raised toilet facility, and / or a room on the ground floor, and / or an alarm facility, they will do all they can to make sure you have peace of mind prior to travelling.
Their attentive staff are proud to take the time to research the best deals for you, according to you every need. They only recommend the best quality and best priced packages. Your holidays matters to them.
For Best and Cheap Holidays Deals
Great holiday deals
Catered to your needs
Hotel packages
Beach breaks and getaways
Perfect for elderly couples and individuals
Sign up to the 1 Stop Holidays newsletter today for the latest in holiday offers, tips and savings.
SORRY, THIS NEWSLETTER IS NO LONGER AVAILABLE
Front Cover Images of 1 Stop Holidays for the Elderly Newsletter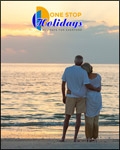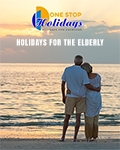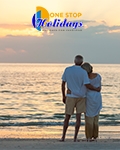 VIEW ARCHIVED NEWSLETTERS