1STOPHOLIDAYS.COM NEWSLETTER
Welcome to 1 Stop Holidays
We care about you and your holiday, we have real people happy to help you and waiting for your call.
We can tailor make your holiday to suit your needs. We can also arrange airport transfers and car hire. We can also supply hotel or flight only. We bring the best prices to you from our 100's of suppliers worldwide.
We are proud to say we take our time to research the best deals for you, according to your needs. We only recommend the best quality and best priced packages. Your holidays matters to us and we take it very seriously.
For Best and Cheap Holidays Deals
Great holiday deals
Holidays for the elderly
Disability-friendly holidays
Hotel packages
Beach breaks
Sign up to the One-Stop Holidays newsletter today for the latest in holiday offers, tips and savings.
SORRY, THIS NEWSLETTER IS NO LONGER AVAILABLE
Front Cover Images of 1stopholidays.com Newsletter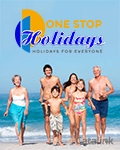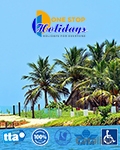 VIEW ARCHIVED NEWSLETTERS