ADAMS GARDEN SCULPTURES CATALOGUE
Cast in bronze or brass, every piece in the collection is carefully crafted to show lively and realistic detail. The range of models, styles and sizes ensures that you are able to select the sculpture which best complements your garden's size, design and ambience.

Some pieces are ideally suited for the larger garden, some are more at home in the more compact. Others fit naturally into a leafy space, whilst others make novel fountains or add character to the garden pool.

A garden pond is always a focus for wildlife: a pair of cranes, long–legged and swan–necked, stalking the bank; a leaping bronze frog fountain or a brass frog hidden amongst the lily pads.

For the uncommon and singular you might choose a life–sized lion or the smaller tiger, or perhaps a pair of graceful deer – one grazing, the other poised for flight – is more to your taste.

Whichever sculptures you choose, please be assured that they are entirely weather–resistant and durable and they will grace your garden, patio or conservatory for many years to come.
SORRY, THIS CATALOGUE IS NO LONGER AVAILABLE THROUGH THIS WEBSITE.
The Visual History of Adams Garden Sculptures Catalogue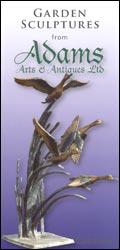 06 June, 2005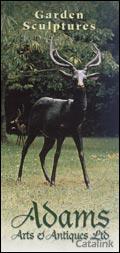 04 November, 2004