To order the Adini Catalogue and sign up to their newsletter service, simply click the Request button
Request Catalogue
Women's Clothing & Fashion Accessories
British brand Adini has been making women's clothing for over 45 years. Its collections are made from luxurious natural fabrics and sustainable yarns that are both ethical and kinder to the environment. The clothes are stylish, ageless and easy-to-wear and are ultra-flattering to all shapes and sizes.
They are known for their vibrant, signature prints, high quality, flattering fit and unique styling. The garments are beautifully made with immaculate attention to detail.
Their style is timeless, contemporary fashion that is full of colour and pattern creating fashion that is made to last and always be relevant. Their design is all about creative expression through colours, concept, the body, the fabric and the feel and comfort of the women who wear their clothes. They truly design their items with you in mind.
Whatever you're looking for, you can find something with them, from dresses, tunics and wraps to jewellery, scarves and more, they really do have it all.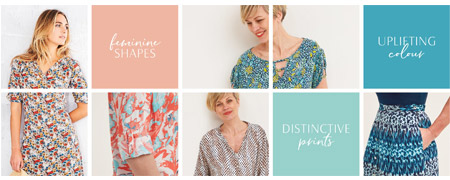 They have an excellent customer service team that offers a truly personal service that is friendly, knowledgeable and efficient. So, you can either order online through their website or via their catalogue by calling them on 020 8090 0331. They ship your order quickly and efficiently, directly to you.
Adini offer a free, no quibbles, return service so if you are not happy with your purchase, you can return it free of charge for a full refund.
Order your free copy of the Adini catalogue and sign up to their newsletter today to explore their range and fall in love with all of their beautiful designs.