ADVENTURE ALTERNATIVE - KILIMANJARO BROCHURE
Adventure Alternative has a perfect track record of safety and summit success and we operate
our own company in east Africa to look after your needs from mountains to safaris to overland 4x4 trucks.

This is an exciting adventure in East Africa and you are sure to have a fantastic time on this great challenge. The climb is a non–technical trek but challenging in that it offers a full mountaineering experience, from the hot plains up through cultivated farmland, and forests, high Alpine meadows, and finally the glaciated summit. Kilimanjaro's unique position just below the equator offers an opportunity to experience so much in one expedition.

Adventure Alternative operates a sister company in East Africa, called Africampers. We have large stores of equipment on site and a full complement of staff and vehicles. We never outsource and have a wealth of experience, an excellent team and everything to make this an adventure of a lifetime!
SORRY, THIS BROCHURE IS NO LONGER AVAILABLE THROUGH THIS WEBSITE.
The Visual History of Adventure Alternative - Kilimanjaro Brochure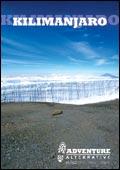 30 August, 2006