AFROCENCHIX HAIR CARE NEWSLETTER
Handmade, effective & all-natural hair products!
The range of Afrocenchix is one of the most beautifully natural, organic and effective hair care ranges around. Blending natural and organic ingredients with expertise, their hair products are good to you and the environment.
From moisturising shampoo, hair oil and moisturising spray to shower caps, travel sets and more. The products at Afrocenchix are designed to be gentle to your body, meaning that if you have sensitive skin, they'll be perfect for you.
Ideal for anyone suffering with eczema, the organic ingredients used by Afrocenchix are so natural, you won't want to use anything else. Sign up to their newsletter today to discover all they have to offer.
The experts at Afrocenchix know how sensitive your child's skin really is. That's why they've developed clean, honest products that won't harm their health.
Never struggle with styling your hair again when you shop with Afrocenchix! Their Smooth moisturiser is designed to make handling your hair that little bit easier. For mega manageable, super-soft hair, you won't want anything else...
Don't wait any longer, sign up to the Afrocenchix newsletter today to discover all they have to offer and receive member only deals, hair care advice, event news and updates on the best organic hair care products around!
SORRY, THIS NEWSLETTER IS NO LONGER AVAILABLE
Front Cover Images of Afrocenchix Hair Care Newsletter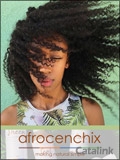 VIEW ARCHIVED NEWSLETTERS