ALTON CEDAR GREENHOUSES CATALOGUE
Finest Cedar Greenhouses from Alton.

Welcome to Alton Garden Buildings. Alton was the amateur greenhouse pioneer in Britain with a pedigree stretching back to 1921.

We were the first company to design and construct domestic greenhouses and during this time we have earned a reputation for products of innovative design, solid construction and outstanding durability.

Today, as we have always done, our greenhouses are constructed from rot–resistant Western Red Cedar Wood – a compliment to any garden setting.

No matter what size your garden or level of enthusiasm we have a model to suit your needs.

Alton Greenhouses are much stronger than most aluminium models, give better heat retention and are far more resistant to wind damage.

We also offer a range of Cedar Summerhouses plus a range in Redwood.
SORRY, THIS CATALOGUE IS NO LONGER AVAILABLE THROUGH THIS WEBSITE.
The Visual History of Alton Cedar Greenhouses Catalogue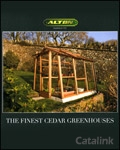 14 March, 2011

15 June, 2009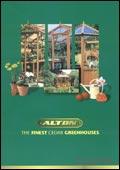 13 May, 2005