ALZHEIMERS SOCIETY CATALOGUE
Alzheimer's Society is the leading support and research charity for people with dementia, their families and carers. There are 750,000 people with dementia in the UK with numbers set to rise to one million by 2021.

Their Winter Catalogue 2011 features a wide range of seasonal products including Christmas Cards and their 2012 calendar, plus daily living aids to help make lives easier for people living with dementia and their carers, practical gifts and publications offering information, advice and support.

All profits go towards people living with dementia and their carers.
Their whole range is available to view on their webshop . If you'd like to receive a copy of their Winter catalogue, please click the button at the top of the page!


SORRY, THIS CATALOGUE IS NO LONGER AVAILABLE THROUGH THIS WEBSITE.
The Visual History of Alzheimers Society Catalogue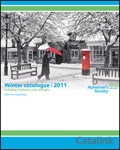 17 October, 2011
12 October, 2006