AMERICA AS YOU LIKE IT - GEORGIA BROCHURE
America As You Like It offers a unique and comprehensive programme of accommodation and fly–drives across the USA, featuring bed and breakfasts, inns, hotels and self–catering homes and apartments, all at fantastic prices.

Georgia is the largest of the Southern states. Apart from some beaches and towns on the Coastline, this overwhelmingly rural state is composed of slow, easygoing settlements where the best, and sometimes the only, way to enjoy your time is to sip tea an chat on the porch. From ancient mountains to rolling rivers and manicured peach orchards, charming towns to a bustling metropolis, Georgia offers whatever it is you're looking for.
SORRY, THIS BROCHURE IS NO LONGER AVAILABLE THROUGH THIS WEBSITE.
The Visual History of America As You Like It - Georgia Brochure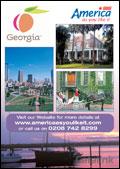 14 July, 2008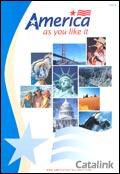 22 June, 2006