AMERICA AS YOU LIKE IT - SCOTTSDALE ARIZONA BROCHURE
The Grand Canyon State … and so much more. This awesome attraction is just one of the many things on offer in Arizona. Enjoy year round sunshine in the desert resorts of Scottsdale, Phoenix and Tucson, or admire the wealth of other natural attractions, including Monument Valley, on the Utah border; Canyon de Chelly; the red rocks of Sedona; the giant cacti of the Saguaro National Park, just outside Tucson and the state's newest attraction – the Grand Canyon Skywalk, a glass bridge stretching out over the Grand Canyon.

We can also arrange flights over the Grand Canyon, rafting on the Colorado River and stays at the Grand Canyon West Ranch. Please ask us for more details.
SORRY, THIS BROCHURE IS NO LONGER AVAILABLE THROUGH THIS WEBSITE.
The Visual History of America as you like it - Scottsdale Arizona Brochure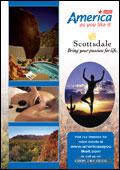 06 June, 2008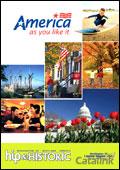 17 December, 2007