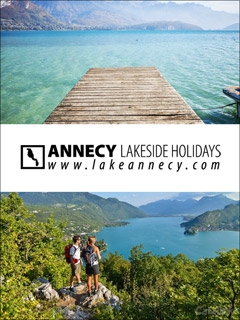 ANNECY LAKESIDE HOLIDAYS NEWSLETTER
To sign up to the Annecy Lakeside Holidays Newsletter, simply click the Request Newsletter button below and you will receive amazing special offers, discounts and access to secret sales.
Request Newsletter
Lake Annecy Villa Holidays
Annecy Lakeside Holidays has a beautiful range of villas, Chalets and apartments around Lake Annecy in the French Alps. Sign up to their newsletter today to get their latest offers, deals and updates straight to your inbox!
This wonderful hidden corner of France will quickly spellbind you by its beauty and charm. Found in the French department of Haute Savoie, this stunning lake is overlooked by the French Alps.
Specialising in affordable family villas and apartment rentals, you can choose from an incredible range of stunning holiday packages with Annecy Lakeside Holidays. From culture filled breaks and ski packages to relaxing pool holidays and more, they have your perfect break waiting for you.
Offering you anything from an adventure holiday in the mountains, to simply relaxing by the lake or discovering the Annecy lakeside towns, you can enjoy this mesmerising location with your whole family or with your partner.
Sign up to the Annecy Lakeside Holidays newsletter today to get member only offers and deals on beautiful villas, direct to your inbox!