AUTHENTIC ADVENTURES - PAINTING HOLIDAYS BROCHURE
People come on Authentic Adventures painting holidays for a relaxed and enjoyable artistic adventure, and many return year after year to seek out new subjects and new locations. Last year they painted in two new settings: Idyllic Santorini and the beautiful island of Gozo, in addition to returning to their roots in Subbetica, Spain.

For 2012 they have selected two new destinations including the Caribbean Island of Cuba, and Aracena, Spain.

Their tutors
All their tutors are professional painters, working in a range of media. More importantly they are friendly, patient and encouraging in helping you develop your techniques, whatever your level of experience. They are totally committed, teaching for 6-8 hours per day with free time in the afternoons, although you may take as many breaks as you wish.

With a range of locations available in Europe, Africa, Asia and the Caribbean, you're bound to find inspiration on one of their trips.
SORRY, THIS BROCHURE IS NO LONGER AVAILABLE
Front Cover Images of Authentic Adventures - Painting Holidays Brochure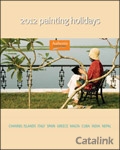 VIEW ARCHIVED BROCHURES