AUTHENTIC ADVENTURES - PHOTOGRAPHY HOLIDAYS BROCHURE
Authentic Adventures Photography holidays have gone from strength to strength thanks to our wonderful tutors and some very special locations.

This year they are excited to offer four new fabulous photographic locations to add to their photography holidays in Morocco, India, Iceland, Tuscany, and the Greek island of Santorini. They have a new photography trip to Venice and an exciting new dual centre adventure planned for the vibrant and distinctive Caribbean island of Cuba.

The locations
Their photographers enjoy working with the light bouncing off the sea on the Greek island of Santorini, while Morocco and India offer exotic locations, inspiring landscapes and cultural contrasts. In addition to the hilltop towns of Tuscany, they have a new photography city break to Venice focusing on the contrast of moonlight reflections on water by night as well as day time sights. They are returning to Iceland, this time to explore a new region in the north.

Their photography tutors are award winning photographers with the expertise to share their tips and teach their techniques and skills.

The itineraries blend large landscapes with close up detail. They use air-conditioned transport to take us to their locations and adventures. Excursions and meals are taken together as a group but all activities are optional and their hotels are ideal places to relax and review your digital photographs.
SORRY, THIS BROCHURE IS NO LONGER AVAILABLE
Front Cover Images of Authentic Adventures - Photography Holidays Brochure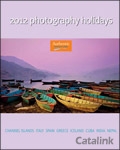 VIEW ARCHIVED BROCHURES