AVALON WATERWAYS - EUROPEAN RIVER CRUISES BROCHURE
Avalon Waterways offer luxurious European river cruises and are now available in the UK. With the youngest fleet in Europe, they combine state–of–the–art cruising with years of experience to give you the best choice in river cruising.

An unforgettable journey awaits with Avalon's array of European river cruises. Take a voyage along some of Europe's most famous rivers and waterways from the Danube to the Rhine and more. Witness the stunning landscapes of Europe – the rugged hills and the vibrant cities – and immerse yourself in a world of European history and culture.

Their European River Cruises brochure features an outstanding range of luxury river cruise holidays, including many brand new destinations and itineraries. Take a look at the new 10 day 'Highlights of Germany' cruise, which takes you along the Rhine or their 'Capitals of Central Europe' itinerary, cruising the Danube. Also new for 2013 is their two new, luxury suite ships, the Avalon Expression and Avalon Artistry II.
SORRY, THIS BROCHURE IS NO LONGER AVAILABLE THROUGH THIS WEBSITE.
The Visual History of Avalon Waterways - European River Cruises Brochure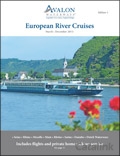 29 May, 2012