BAREFOOT TRAVELLER BROCHURE
NOT JUST SCUBA ANYMORE...

Although we are still largely regarded as a specialist dive operator, we have grown over the years to offer tailor–made holidays in a variety of specialist area such as bird watching and wildlife tours/safari's including photography, adventure holidays from white–water rafting, mountain biking and free climbing to scuba or even sky diving. We also do honeymoons, wellness spas and luxury getaways.

Barefoot Traveller is a small and independent company, with 18 years experience, specialising in tailor–made holidays throughout the world with diving included if you so wish. We know, not every Barefoot Traveller is a diver, some come simply to relax, explore and enjoy the culture and delights of many of the world's most extraordinary and wondrous destinations. For some, the ruins of lost civilisations in Belize, the escapades of Malaysia's orang–utans, desert safaris in Oman or the paradise beaches of the Maldives are more than engaging enough.

But others just want to dive straight in, and with underwater experiences on offer the stuff of dreams, who can blame them. You can go diving with whale sharks or Mantas, snorkelling with sting rays, swimming with wild dolphins, exploring caves and blue holes.

Being certified divers ourselves, we have first hand experience of each and every one of our destinations, both above and below the water. So we can give you the best advice when planning your holiday, whatever your budget.

Barefoot Traveller has the experience and expertise to make it happen, just the way you like it, at the price you want to pay.

SORRY, THIS BROCHURE IS NO LONGER AVAILABLE THROUGH THIS WEBSITE.
The Visual History of Barefoot Traveller Brochure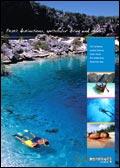 02 October, 2006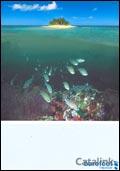 17 July, 2006