BARKA PARKA CATALOGUE
BARKA PARKA HAND–MADE BEAN BEDS provide your dog or cat with a lifetime of relaxation and total support without strain or pressure. Filled with virgin fire–retardant polystyrene bead, they give year–round comfort and therapeutic benefit.

BARKA PARKA's success lies in its circular shape, unique and distinctive washable slip cover, fabric quality and a policy of never knowingly supplying clients with an inappropriately–sized bed.

FILL IT YOURSELF flat–packs are particularly suitable to send to clients abroad.

DRI–TOP is a valuable accessory that protects the inner bed – another BARKA PARKA first!!

DESIGN: Round is best!! In oval or oblong beds, beans run up to one end and do not create a proper supporting wall.

COLOURS: Red, Pink, Silver Grey, Peacock, Navy, Pebble, Fawn, Brown, Forest Green, Khaki (Kepi), Olive. Please note that the fabric is of such superb quality, it is easy to vacuum or brush off hair between washes. We do advise that, although light hair will be more noticeable on shades such as Brown and Navy, these colours look very smart as side trims, i.e. Fawn top, Brown side.

INNER BED: Special SAFETY feature: the security zip helps to avert accidents – especially with children. The beans are not encased in 100% synthetic material – such as nylon – therefore, the dampness that causes unpleasant odours is eliminated.

OUTER: The design of our washable slip cover is unique – and simplicity itself! The cover is elasticated and, because you don't have to fight with zips or poppers to take it off, you do it! Regular washing of the covers keeps the inner clean and it's very easy to put back on after laundering.

CHOOSE THE RIGHT SIZE: Absolutely vital!! You cannot expect the bed to do its job properly if it is too small. All beans ultimately lose resilience, especially if the bed is used a lot – which, of course, is what you bought it for! – but the larger the bed in relation to the size and weight of its occupant, the less often you will have to top up. The guides below will help you choose correctly.

AVAILABILITY: If your selected size and colour is in stock, your order will be despatched a few days from receipt. For bespoke orders, please allow about 28 days.
SORRY, THIS CATALOGUE IS NO LONGER AVAILABLE THROUGH THIS WEBSITE.
The Visual History of Barka Parka Catalogue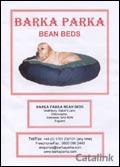 08 February, 2005