BARWELL LEISURE - THE BARWELL COLLECTION BROCHURE
Over the past 35 years or so, Barwell Leisure has earnt an enviable worldwide reputation for quality, cost effective travel and tour operating delivered by friendly, efficient and caring people. Have pioneered travel and holidays to the now world renowned La Manga Club in southern Spain back in the 70's and more recently to the stunningly beautiful Humber Valley Resort in Newfoundland, Canada, we are delighted to present to you our very special Barwell Collection.

We have chosen five of our favourite destinations in this brochure, and selected some of the finest accommodation available. We are sure you will enjoy the anticipation of planning your holiday as you read through these pages. If you have any questions, then do please give us a call.
SORRY, THIS BROCHURE IS NO LONGER AVAILABLE THROUGH THIS WEBSITE.
The Visual History of Barwell Leisure - The Barwell Collection Brochure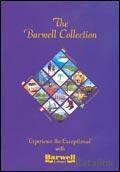 30 January, 2007