BATH KNIGHT CATALOGUE
Some of us really struggle to get in and out of the bath and for others, bath time is just a faded memory. But not any more – join the thousands of other people who can now enjoy a nice relaxing bath again without anyone's help.

The real beauty of Bath–Knight is that it is so unobtrusive – no bulky contraptions to clutter up your bathroom – anyone can have a bath at any time.

Not only is Bath–Knight safe – using an approved Quality Management System, ISO9001 and also independently assessed and approved by the Medical Devices Agency – but it will also always be installed by a skilled engineer who understands the fitting method perfectly.

Their specialist engineers install the Bath–Knight in less than 3 hours.

Change your life! Not your bathroom.
SORRY, THIS CATALOGUE IS NO LONGER AVAILABLE THROUGH THIS WEBSITE.
The Visual History of Bath Knight Catalogue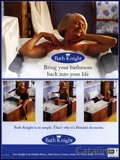 16 May, 2011