BIBLIOPHILE - BOOKS AND GIFTS CATALOGUE
Bibliophile – Britain's best postal book bargains


Satisfy your book addiction here.

This catalogue blows the door to the world of reading wide open. An unsurpassed range of books – all available by mail–order – guarantees to keep you entertained whatever your area of interest.

Order the Bibliophile catalogue and see yourself in to a literary world which includes:
Fiction & non–fiction
Art, crafts, architecture, culture & history
Hobbies, gardening, health & lifestyle
Children's & educational books
Nature, science, music & dance
Science fiction, erotica & fantasy
Much, much, much more...
Settle down to the right book at the right time
With so much to choose from, from contemporary writing to timeless classics, you'll find the perfect book whatever the occasion.

Order the Bibliophile catalogue now for your very own never–ending, book–reading story.

SORRY, THIS CATALOGUE IS NO LONGER AVAILABLE THROUGH THIS WEBSITE.
The Visual History of Bibliophile - Books and Gifts Catalogue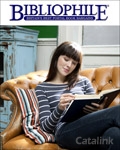 04 November, 2014