BIGDUG CATALOGUE
Welcome to BiGDUG – the UK's best value online racking and shelving company!

Why so successful? Well it could be any of the following reasons that BiGDUG is fast becoming one the UK's major online business stores:

GREAT PRODUCTS – All their products have been manufactured to provide the very best in value for your business. They have specifically produced products that are either easy to assemble or simple to operate.

SATISFACTION GUARANTEE – BiGDUG will refund your order if you're not completely satisfied with your product. (conditions apply)!

NO LIES, NO BROKEN PROMISES – If they can't deliver something within their time limits, they'll always try to tell you BEFORE you order it!

CUSTOMER SERVICE – make no bones about it, they're here to listen to you! They don't just listen when you're making orders. They also listen if you're not happy with something or even have a suggestion to make your shopping experience better!
SORRY, THIS CATALOGUE IS NO LONGER AVAILABLE THROUGH THIS WEBSITE.
The Visual History of BiGDUG Catalogue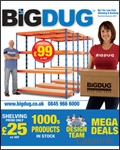 15 August, 2011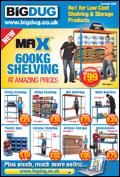 09 May, 2008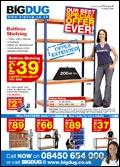 23 November, 2006