BIRDS AND BEES CATALOGUE
Birds & Bees – Wild Bird Food for Wildlife Lovers


Making Britain a better place for wildlife – that's why Birds & Bees have committed to planting 1 square ft of wildflower for every new customer who joins them.

Their autumn catalogue showcases a great subscription gift offer and special money saving deals on wild bird food and accessories – all delivered direct to your door!

Find out more about how you can give back to Britain's wildlife, whilst feeding the wild birds in your garden. Use discount code CTL10 to get your discount for orders over £20.

Order the Birds & Bees catalogue now for a full range of treats and goodies.


SORRY, THIS CATALOGUE IS NO LONGER AVAILABLE THROUGH THIS WEBSITE.
The Visual History of Birds and Bees Catalogue
29 May, 2015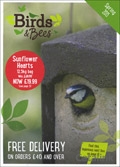 18 March, 2015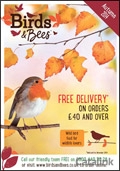 23 September, 2014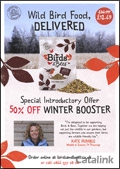 05 September, 2014