BLOOM HEARING AID GUIDE
At first it can be easy to ignore hearing loss. But then it starts to affect your life and those around you. It may be that you don't actually need a hearing aid - but wouldn't it be better to find out?

Just sign up on their page and they'll send you a free copy of The Consumer Guide - NHS or Private Digital Hearing Aids, worth £3.95. Plus The Good Hearing Guide, with information about how to test your hearing and different types of aid, many of which are simpler, smaller and smarter than ever before.

And if you'd like an expert opinion, they can also put you in touch with a local company who'll offer a free hearing test.

Ask for your free guides now, and take back control of your hearing.
SORRY, THIS IS NO LONGER AVAILABLE
Front Cover Images of Bloom Hearing Aid Guide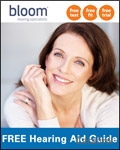 VIEW ARCHIVED S