BLUE VANILLA FASHION NEWSLETTER
High quality affordable women's fashion
Blue Vanilla Fashion offers a great range of fast-fashion at affordable prices. Sign up to their newsletter today to explore all they have to offer and be the first to receive new releases and great offers!
Explore everything from beautiful flowing dresses, soft knitwear and summer playsuits to comfy casuals, beautiful shirts and so much more.
The fashion experts at Blue Vanilla are passionate about bringing you the best in all things fashions at prices that won't break the bank. You can find numerous styles, trends and new releases every day with them.
Whether you're shopping for that summer holiday, looking for those oh, so important transitional items or simply wanting to treat yourself, you're sure to find the perfect products with them.
Sign up to the Blue Vanilla Fashion newsletter today to explore their incredible range of clothing and shoes!
SORRY, THIS NEWSLETTER IS NO LONGER AVAILABLE THROUGH THIS WEBSITE.
The Visual History of Blue Vanilla Fashion Newsletter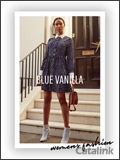 27 February, 2019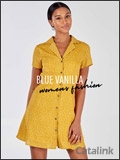 27 February, 2019