BUKIMA - WORLD BROCHURE
For more than 15 years, Bukima overland, safaris and tailor made tour offer great value adventures to numerous destinations worldwide and now Bukima is the first tour company to offer a true overland trip to New Zealand. Our experience, knowledge and passion for the areas we travel make us a world leader in Eco friendly adventure travel. Have a look at what a Bukima tour includes, you will be amazed! – and will realise that ''You've Never Seen Enough''. Make your next adventure a Bukima adventure! Our tours have been designed to blend fun, excitement and discovery into a holiday experience that will last a lifetime..We offer flexibility, freedom and a hassle free way of seeing different places in the world that most people will only dream about.
SORRY, THIS BROCHURE IS NO LONGER AVAILABLE THROUGH THIS WEBSITE.
The Visual History of Bukima - World Brochure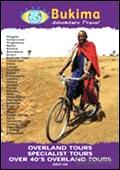 31 January, 2007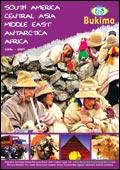 30 January, 2006